Light-hearted and satisfying ~What About Today by Dawn Lanuza
9:52:00 AM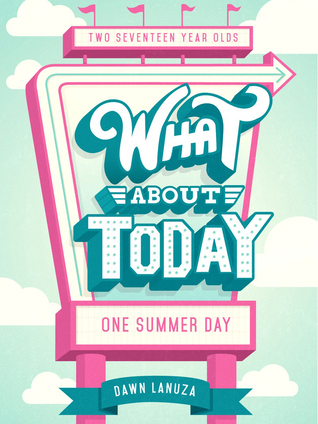 Title:
What About Today
Author: Dawn Lanuza
Format acquired: ebook
Source:
From the author (Thanks, Ms. Dawn!)
Publication date:
April 14, 2015
Aiden's stuck working for his family's amusement park, Funtastic World, for the whole summer. Nothing amuses him, until he met this terrified girl.
Gemma's stuck in Funtastic World thinking she could handle the park's rides. She couldn't. Good thing she met someone to guide her.
As the day comes to a close, Aiden and Gemma ask themselves if one day is ever enough to decide if they were better off as friends or strangers.
I've read this book last month but I wasn't able to post a review about it because I got depressed and ill for a few weeks. Basically, it's like life's preventing me from being a productive book blogger and individual. Gah. :(
What About Today is, just like the title suggests, a story that happened within 24 hours. It's actually my first time to read a 24-hour story. You would think that it would be a story with a lot of plot holes because let's face it, it ain't easy to write a book that happened in a day only. I honestly can't imagine how the author would include all the essential parts of a story and leave the readers satisfied with it but HOLY COW, Dawn Lanuza managed to do all of that. She's a genius, I tell you. I've read all of Ms. Dawn's books and I loved them all. I was a bit anxious of reading this book because like I said, I just can't imagine how a book with a 24-hour time frame leave me satisfied. But I guess I shouldn't have doubted the author's writing ability. It was done flawlessly. It made me a very satisfied and happy reader who wants to read more of Gemma and Aiden.
What made this book different from the other works of the author was that I had an instant connection with Gemma and Aiden--the main characters in the story unlike her previous books that I've read. They're very likable characters and easy to have connection with. In fact, I can see a glimpse of myself in both Gemma and Aiden.
I loved how the book ended! I couldn't ask for a better ending than that. Though I must admit that it made me want to read more of them but at the same time I don't want to. If you're in need of a light and unique (I haven't read a 24-hour story so I shall call this unique) book the What About Today is the right one for you. Seriously, read this book. Or any other books by Dawn Lanuza because they're just amazing! I consider Dawn Lanuza as "Queen of Contemporary Novels." *bows down to the queen*