Review: The Murder Complex (The Murder Complex #1) by Lindsay Cummings
1:14:00 AM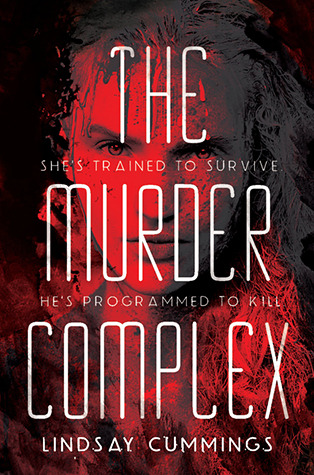 Title:
The Murder Complex (The Murder Complex #1)
Author: Lindsay Cummings
Format acquired: ARC
Source:
Received from the author (thank you, Lindsay!)
Publication date:
June 10, 2014
Meadow Woodson, a fifteen-year-old girl who has been trained by her father to fight, to kill, and to survive in any situation, lives with her family on a houseboat in Florida. The state is controlled by The Murder Complex, an organization that tracks the population with precision.
The plot starts to thicken when Meadow meets Zephyr James, who is—although he doesn't know it—one of the MC's programmed assassins. Is their meeting a coincidence? Destiny? Or part of a terrifying strategy? And will Zephyr keep Meadow from discovering the haunting truth about her family?
Action-packed, blood-soaked, and chilling, this is a dark and compelling debut novel by Lindsay Cummings.
This is a long overdue review. I was given an ARC of this book last 2014 but because I went into a long reading slump and blogging hiatus, I haven't had the chance to read it. But it's better late than never, right? ;)
This book is set in a Dystopian world where the death rate is higher than the birth rate. It's also told in dual POVs—Meadow's and Zephyr's. Meadow, one of the main characters of this book, is a total badass female character. I liked how she doesn't second-guess herself and that she's not whiny (which was so refreshing for me because most Dystopian novels that I've read always have whiny main characters). And we also have Zephyr, the other main character of this book. Well, I have an on-off relationship with him. Sometimes I liked his character, but sometimes I do not. He's quite the opposite of Meadow. If Meadow is all rough and headstrong, Zephyr is kind and mellow. But I find his character more intriguing and interesting than Meadow's because his character is very mysterious. In the book, Zephyr would have this occasional blackout. He would suddenly find himself with blood on his hands and a dead body beside him and he would have no idea how he got there or why he's there. And that's one of the mysteries in this book.
I also liked how fast-paced this book was. Lindsay did a great job in explaining the world in this book. It's very natural and it doesn't drag the story. It's easy to digest the world-building of this book. One of the things that I always look for in a Dystopian novel is that I shouldn't have a hard time understanding it. It should be easy to dive into its world. Because when I read books, I always imagine myself in that world. It helps me understand and appreciate more the characters in the book. So I always look for that characteristic in a book especially in Dystopian novels because I love Dystopian novels. And I could say that The Murder Complex has that.
I gave this book a 4 stars rating because I did have a problem with it. And the reason why I only gave it 4 stars was because of the insta-love. Don't get me wrong, I'm okay with insta-love (I guess? Haha) but it depends on its execution. I liked their characters individually, but I hate it when they're together. They would turn into these bumbling idiots whenever they're together. Honestly, I would prefer if the author didn't add a romance in this book. It can survive without it.
Overall, I enjoyed reading this book. The Murder Complex is a gritty and gory novel that will make you cringe (and enjoy in my case) at its gruesome scenes. If you're looking for an action-packed and full of badassery book, then this is the perfect one for you.